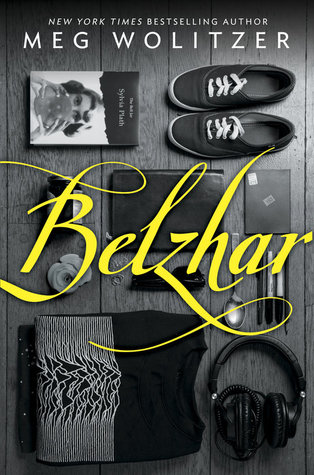 Belzhar by Meg Wolitzer
Published September 30th, 2014 by Dutton Juvenile
Hardcover; 264 pages
Genre: Young Adult, Magical Realism
Source: Library
Avg. Goodreads Rating: 3.51
My rating:★★★1/2
If life were fair, Jam Gallahue would still be  at home in New Jersey with her sweet British  boyfriend, Reeve Maxfield. She'd be watching  old comedy sketches with him. She'd be kissing  him in the library stacks.
She certainly wouldn't be at The Wooden Barn, a therapeutic boarding school in rural Vermont, living with a weird roommate, and signed up for an exclusive, mysterious class called Special Topics in English.
But life isn't fair, and Reeve Maxfield is dead.
Until a journal-writing assignment leads Jam to Belzhar, where the untainted past is restored, and Jam can feel Reeve's arms around her once again. But there are hidden truths on Jam's path to reclaim her loss. [Via Goodreads]
---
MY THOUGHTS
Jam Gallahue is having a difficult time processing the death of her boyfriend, whom she only knew for 40 days and dated for 26, dies unexpectedly. Because of this, her parents send her to a school called The Wooden Barn for "emotionally fragile, highly intelligent teenagers." She is sent here as sort of a last chance before her parents admit her to a hospital somewhere. (Okay, I can't remember if they actually say that in the book but that would definitely be the kid's next step.)
Upon arrival at The Wooden Barn, Jam, along with four other students, are selected for Special Topics in English in which they discover they will only be studying The Bell Jar by Sylvia Plath. During their studies they learn they are required to write in a journal over the course of the term and hand them in afterward. It is here where the book's title comes into play.
Without revealing any spoilers, I will say that I was somewhat disappointed by this book. While I enjoyed the plot and how most of it was handled, the ending felt like it wasn't as fleshed out as it could have been. I wanted more backstory, more how, more why but Wolitzer didn't provide them. I enjoy a bit of magical realism now and then so that intrigued me but the introduction of said magic occurred very abruptly and almost too casually for my tastes.
I was uncertain how I would feel about this book given that I found The Interestings so dreadfully not interesting that I put it down and walked away from it. I was pleasantly surprised that I liked what I did. I will say that I did enjoy the main character and I enjoyed the plot twist near the end. I remember just how consuming young love could be and the way it could effect a person.
But, in my honest opinion, it was too short. If there were maybe 100-200 more pages full of the details I felt were missing, this would have been a five star rating. It felt a lot like Wolitzer finished it, had it proofed and said, "Okay, that's good enough." Had there just been a little more to it this would have been an amazing book. There was definitely the opportunity for it to be more than it was.