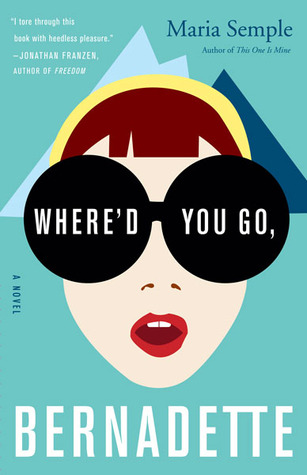 Where'd You Go, Bernadette by Maria Semple
Published April 2013 by Back Bay Books
Originally published in Hardcover in 2012 by Little, Brown & Co.
Paperback;  330 pages
Source: Personal Collection
★★★★
---
SYNOPSIS
Bernadette Fox has vanished.
When her daughter Bee claims a family trip to Antarctica as a reward for perfect grades, Bernadette, a fiercely intelligent shut-in, throws herself into preparations for the trip. But worn down by years of trying to live the Seattle life she never wanted, Ms. Fox is on the brink of a meltdown. And after a school fundraiser goes disastrously awry at her hands, she disappears, leaving her family to pick up the pieces.
Which is exactly what Bee does, weaving together an elaborate web of emails, invoices, and school memos that reveals a secret past Bernadette has been hiding for decades. Where'd You Go Bernadette is an ingenious and unabashedly entertaining novel about a family coming to terms with who they are, and the power of a daughter's love for her mother. [Via Goodreads]
---
Bernadette Fox is a reclusive but amiable former architect/artist who is resides in Seattle with her husband, Elgin, a Microsoft VIP, and her daughter, Bee. They live in a dilapidated old school for girls on top of a hill surrounded by blackberry bushes. When Bee brings home a promising report card she cashes in on the promise that she could have "anything she wanted". Her request is a family trip to Antarctica.
For Bernadette, who already dislikes leaving the house enough to have hired an online virtual assistant to handle most of her affairs, the trip looms above her exacerbating her anxiety. Coupled with the fact that she is not a well liked by fellow Galer Street parents and an argument with a neighbor turns highly catastrophic, Bernadette feels overwhelmed. Her behavior becomes more and more erratic giving her husband and daughter cause for concern.
Here the story picks up and, in my opinion, became infinitely more interesting. Bernadette must contend with the anxiety of an impending trip, an irate neighbor out to make her life hell, in addition to her husband's new mission to get her some help and it pushes her right over the edge. Bernadette disappears.
Her daughter, Bee, becomes adamant that she will find her mother by reconstructing her last days. Told in epistolary format with a collection of various emails, notes and various other items collected by young Bee after her mother has gone missing it paints a detailed portrait of the life her mother was living and the secrets she may have been keeping.
I was uncertain how I would feel about this format but I think choosing to portray it in this fashion, with small amounts of concise narration between emails, notes, etc., really served the plot well and made for an engaging storyline. Bernadette intrigued me and once I started the book I read through it quickly in order to find out what Huge Hideous Thing had happened to make Bernadette so reclusive. The story around the middle gets a little frustrating for me personally as some things happen that I didn't feel were necessary to make a good story arc, but it didn't diminish my enjoyment.
Overall, this is a great light-hearted and yet still suspenseful read that I'm certain many bookclubs will love.