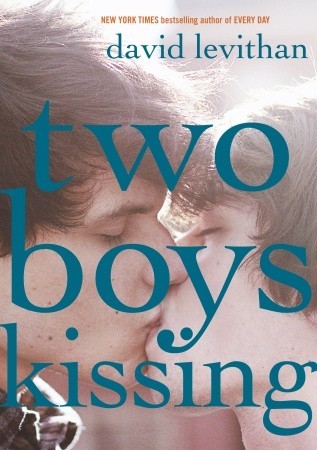 Two Boys Kissing by David Levithan
Knopf Books for Young Readers; 196 pages
Goodreads | Powell's | IndieBound
"There is the sudden. There is the eventual. And in between, there is the living."
Harry and Craig, both seventeen, set out to break the World Record for longest kiss. Staged to take place in front of their high school and filmed by friends they soon become the focal point for other teen boys struggling with varying issues– from coming out, to keeping the spark alive in a long term relationship, to gender identity, and navigating the murky waters of online hookup sites. Harry and Craig struggle to endure the longevity of the kiss and simultaneously work out their feelings on their former relationship–all of which is narrated by a Greek Chorus of the generation of gay men lost to AIDS.
"You spend so much time, so much effort, trying to hold yourself together.  And then everything falls apart anyway."
Let me first say, this book is so much more than what it appears to be. This is not just a book about two boys kissing. This is a book about emotion and vulnerability. This book made me feel things. The narration of the story took a while to adjust to. In the beginning it just felt awkward and strange but as it progressed I understood why it was written in such away. The chorus of narrators felt like angels. Protectors. Just what every teen dealing with struggles, gay or otherwise, needs.
The story begins with Harry and Craig and through their choices we see glimpses into the lives of other gay teen boys that have a range of issues. Neil and Peter have been together a long time and things are still nice but not the same excitement as when they started dating. Avery, born a girl, meets Ryan and eventually reveals that he was born a girl. Cooper's depression and inability to cope lead to a host of bad choices that lead to what could be his last argument with his parents.
"We wish we could show you the world as it sleeps. Then you'd never have any doubt about how similar, how trusting, how astounding and vulnerable we all are."
Levithan conveys much of what it feels like to be a gay teen in today's world. In fact, I feel like this book does such a wonderful job of displaying these things that it should be on everyone's reading list–even if they aren't gay. A short read, Two Boys Kissing is both hopeful and tragic and brimming with quotations begging to be underlined and highlighted.