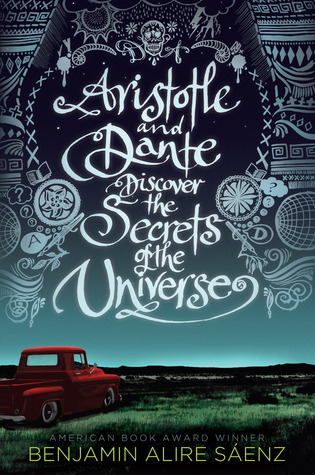 TITLE: Aristotle and Dante Discover the Secrets of the Universe
AUTHOR: Benjamin Alire Sáenz
PUBLISHER: Simon & Schuster
RELEASE DATE: February 2012
TYPE: Hardcover
SOURCE: Library
RATING: ★★★★★
---
Aristotle is an angry teen with a brother in prison. Dante is a know-it-all who has an unusual way of looking at the world. When the two meet at the swimming pool, they seem to have nothing in common. But as the loners start spending time together, they discover that they share a special friendship—the kind that changes lives and lasts a lifetime. And it is through this friendship that Ari and Dante will learn the most important truths about themselves and the kind of people they want to be.
---
In this adorable story we meet Aristotle and Dante– two teens who meet by chance and then become best of friends. Aristotle (Ari) lives with his mother whom he loves and his father who he desperately wants to understand. His father is a veteran of war, scarred and often unnaturally quiet toward his son and this affects Aristotle on many levels. Add to the mix a brother in prison that the family doesn't even speak of and you get your average angsty teenage boy with extra emphasis on the angst. Then comes Dante. Dante is clever, sarcastic, funny and to Aristotle's surprise, he wants to be friends.
"I got to thinking that poems were like people. Some people you got right off the bat. Some people you just didn't get–and never would get."
This is a seemingly simple, straight-forward book about friendship but it really is so much more than that. Written at a time when the two main characters are just beginning to figure out what they want from life and what they want from themselves it turns out to be a beautiful, moving work of art. There are no overarching themes of romancing or breathtaking plot twists. There is no real declaration of love or grand standing. Aristotle and Dante simply are. And, together, they are learning how to exist in the world.
"I wanted to tell them that he was the first human being aside from my mother who had ever made me want to talk about the things that scared me. I wanted to tell them so many things and yet I didn't have the words. So I just stupidly repeated myself. 'Dante's my friend.'"
I listened to this story on audiobook and it was adorable. I must confess that Ari and Dante are probably my new fictional OTP. I think what I loved most about this was the dialogue. It felt real, awkward, and sometimes left gaping holes in what the characters really wanted to say. It felt very real and raw. Beautiful, beautiful book. I recommend this for pretty much everyone! Just read it, okay? Okay.
FIND IT ONLINE
Goodreads | Book Depository |IndieBound | Powell's
---
STAY TUNED FOR THESE UPCOMING REVIEWS