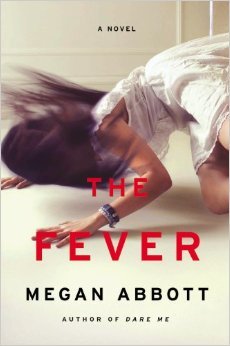 TITLE: The Fever
AUTHOR: Megan Abbott
PUBLISHER: Little, Brown & Co.
RELEASE DATE: June 17th, 2014
ISBN: 978-0316231053
TYPE: Hardcover
SOURCE: Library
RATING: ★★★★
---
SYNOPSIS
The Nash family is close-knit. Tom is a popular teacher, father of two teens: Eli, a hockey star and girl magnet, and his sister Deenie, a diligent student. Their seeming stability, however, is thrown into chaos when Deenie's best friend is struck by a terrifying, unexplained seizure in class. Rumors of a hazardous outbreak spread through the family, school and community.
As hysteria and contagion swell, a series of tightly held secrets emerges, threatening to unravel friendships, families and the town's fragile idea of security.
MY THOUGHTS
In this new release from Megan Abbott we meet the Nash family–average, relatively well-behaved, normal family. Enter chaos when Deenie Nash's best friend falls out of her desk in class and convulses violently on the floor. Throughout the remainder of the book we meet Deenie's other friends, learn more about her brother Eli as well as their father.
With The Fever, Megan Abbott has created a mesmerizing modern portrait of teenage life today: brutal crushes, competing allegiances, and first-bloom sensuality, all magnified by the rush and crush of technology. – Gillian Flynn
I had seen mixed reviews varying from 2-3 stars up to 5 stars for this book and it was one that I felt I had to judge for myself. This book caught my attention because it seemed to me a bit like a modern retelling of the Salem Witch Trials in an abstract kind of way. (Lots of girls with hysterics, strange illnesses, finger pointing, name calling, parents freaking out, school teachers freaking out… yeah.) I had high hopes for it and maybe they were a teeny bit too high. I will go ahead and say up front that I was excited to read this and in the end I was let down.
The build up is wonderful. The characters were very real, very believable, and the events exciting. For a very long while, I couldn't predict exactly where this was going to go. I really love when a book can do that to me. It was a real page turner, no doubt about that–however, after The Big Reveal it was a bit of a disappointment. Perhaps it's because I've been out of high school for so long that this doesn't startle me quite as much as it should. Or maybe it's because we've seen real life incidents involving teens/tweens that are far more horrifying than the end result of this book. It just felt like it was a long of lead up to an only so-so climax. Ho hum. Entirely believable, though, I'll give her that.
What I did really enjoy about the book were the glimpses into the backgrounds of the main characters and getting inside their heads, writing from their viewpoints. I also appreciated the realistic approach to teen friendships in which there will always be some jealousy about who is hanging out with whom and why wasn't I invited? It wasn't terrible for me in high school, but within my group of friends we did have some that hung out more often as pairs instead of as a group and it always made me feel left out and wonder what made them choose each other.
Overall, I'm giving it four stars, though the writing style annoyed me a bit at first, it really leant a teen flair to the storyline and made it even more believable. I would recommend this book if you are a fan of young adult mystery/suspense reads.
Has anyone else read this or any other of Abbott's books?
---
FIND IT
Goodreads | IndieBound | Powell's | Book Depository