TITLE: American Gods
AUTHOR: Neil Gaiman
RATING: ★★★ 1/2
Shadow gets out of prison early when his wife is killed in a car crash. At a loss, he takes up with a mysterious character called Wednesday, who is much more than he appears. In fact, Wednesday is an old god, once known as Odin the All-father, who is roaming America rounding up his forgotten fellows in preparation for an epic battle against the upstart deities of the Internet, credit cards, television, and all that is wired. Shadow agrees to help Wednesday, and they whirl through a psycho-spiritual storm that becomes all too real in its manifestations. For instance, Shadow's dead wife Laura keeps showing up, and not just as a ghost–the difficulty of their continuing relationship is by turns grim and darkly funny, just like the rest of the book.
I had initially gone to our old library in search of The Ocean at the End of the Lane but they didn't have it (since it was before we upgraded to our new libraries with many more books)! This was the first work of Gaiman's I had ever read and, to be honest, I wasn't really all that impressed. It was an interesting plot, sure. I was definitely interested enough to read the entire book but the whole thing just struck me as sort of blah for such a story. I felt this particular story line should have left me feeling in awe of his abilities as a writer because the framework was definitely there. But, instead it was just kind of dull.
Goodreads | Powell's | IndieBound | Book Depository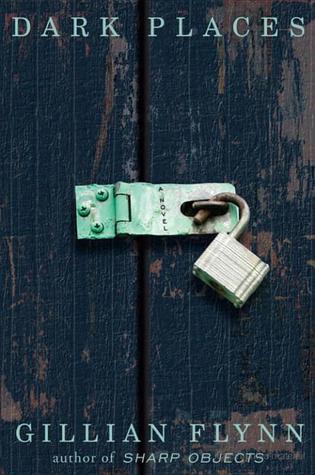 TITLE: Dark Places
AUTHOR: Gillian Flynn
RATING: ★★★ 1/2
Libby Day was seven when her mother and two sisters were murdered in "The Satan Sacrifice of Kinnakee, Kansas." As her family lay dying, little Libby fled their tiny farmhouse into the freezing January snow. She lost some fingers and toes, but she survived–and famously testified that her fifteen-year-old brother, Ben, was the killer. Twenty-five years later, Ben sits in prison, and troubled Libby lives off the dregs of a trust created by well-wishers who've long forgotten her.

The Kill Club is a macabre secret society obsessed with notorious crimes. When they locate Libby and pump her for details–proof they hope may free Ben–Libby hatches a plan to profit off her tragic history. For a fee, she'll reconnect with the players from that night and report her findings to the club… and maybe she'll admit her testimony wasn't so solid after all.
I love Gillian Flynn's Sharp Objects and that's what led to me picking up Dark Places. It is no less interesting and her trademark psychological thrill is still there, no doubt. I just enjoyed Sharp Objects and Gone Girl much more than this one. The story was good but it was one of those that I predicted exactly how it would go about halfway in which was a little disappointing. It also didn't help that the protagonist's attitude really pissed me off for the first part of the book. I genuinely did not like her and it made it difficult to care about the outcome.
Goodreads | Powell's | IndieBound | Book Depository