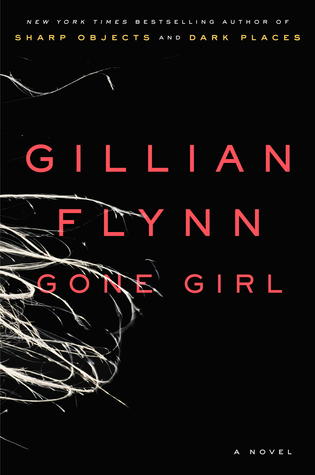 TITLE: Gone Girl
AUTHOR: Gillian Flynn
PUBLISHER: Broadway Books
RELEASE DATE: June 5, 2012
ISBN: 978-030758836X
TYPE: Hardcover
GENRE: Adult Fiction, Mystery, Suspense, Thriller
SOURCE: Library
RATING: ★★★★★
On a warm summer morning in North Carthage, Missouri, it is Nick and Amy Dunne's fifth wedding anniversary. Presents are being wrapped and reservations are being made when Nick's clever and beautiful wife disappears from their rented McMansion on the Mississippi River. Husband-of-the-Year Nick isn't doing himself any favors with cringe-worthy daydreams about the slope and shape of his wife's head, but passages from Amy's diary reveal the alpha-girl perfectionist could have put anyone dangerously on edge. Under mounting pressure from the police and the media–as well as Amy's fiercely doting parents–the town golden boy parades an endless series of lies, deceits, and inappropriate behavior. Nick is oddly evasive, and he's definitely bitter–but is he really a killer?
There are SO many things I want to say about this book but I can't even pinpoint where to begin. I am desperate not to give anything away so I want to say as little as possible while conveying my supreme delight (read: agony, frustration, inability to put this book down) simultaneously.
Gone Girl is written in three parts and this lends itself to the varying degrees in which this book will warp your mind in a thoroughly enjoyable way. I was unable to put the book down once I got past the first fifty pages or so. I stayed up late reading and slept through alarms the following morning. It was definitely worth it!
This book will mess with your mind and you may even find yourself looking at people differently. Just when you think you've gotten to know the characters a little, the story changes and leaves your head spinning. As a former psychology major I was fascinated by the characters and their choice of actions. It almost makes me wish there was a prequel and a sequel to the book.
The ending took my breath away and caused me to slam the book close and just sit quietly for awhile. Some people have griped over the ending but I personally felt it felt with the overall theme of suspense and thrill for the book.
I would recommend this book to anyone that has read Flynn's other novels or is a fan of bone chilling mystery novels! Also, as you may know, the movie should be out sometime this year. I cannot wait to see the movie version!! It will be interesting to see how they portray everything.