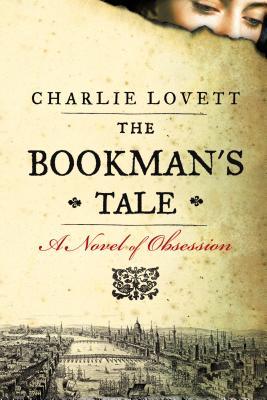 The Bookman's Tale
by Charlie Lovett
5 stars
Hay-on-Wye, 1995. Peter Byerly isn't sure what drew him into this particular bookshop. Nine months earlier, the death of his beloved wife, Amanda, had left him shattered. The young antiquarian bookseller relocated from North Carolina to the English countryside, hoping to rediscover the joy he once took in collecting and restoring rare books. But upon opening an eighteenth-century study of Shakespeare forgeries, Peter is shocked when a portrait of Amanda tumbles out of its pages. Of course, it isn't really her. The watercolor is clearly Victorian. Yet the resemblance is uncanny, and Peter becomes obsessed with learning the picture's origins.
As he follows the trail back first to the Victorian era and then to Shakespeare's time, Peter communes with Amanda's spirit, learns the truth about his own past, and discovers a book that might definitively prove Shakespeare was, indeed, the author of all his plays.
Oh, man. I loved this book! I picked this book up completely on a whim while working at the library a few days ago and I am glad I did!
The focus is primarily on Peter Byerly, an antiquarian bookseller and widow who stumbles upon a mystery that he is driven to unravel even if it kills him–and it may. We come to learn how Peter became a rare books dealer, where he learned the art of book conservation and how he met his wife, Amanda. The story is told in alternating time frames and it effectively thickens the plot, murking up the waters if you will, so you can't determine where the story is going for sure.
This novel had everything I love including suspense, mystery, literature, and, of course, books! (I will say this was the perfect follow up after reading Donna Tartt.) It was intriguing, informative, and there was none of that tacky or overly cheesy crap that comes along in so many other novels labeled as "mystery" genre. In addition to all these good things, I could actually relate to Peter. I have a bit of social anxiety and, surprise, I often hide behind books instead of dealing with things in the real world. I was delighted to see this bit of information incorporated into the storyline.
Until reading this book, I had honestly never given a thought to how books were actually made. I had never taken into consideration the different pieces and parts make up these items I love so much. And now that I know, I have found my fondness has grown even more. I plan on embarking on a tour of special collections libraries in the near future as I consider making rare books/book arts & conservation/special collections my focus for my MLIS degree. Additionally, I don't think I can ever purchase another softcover/trade paper book again…
Other works by Charlie Lovett —The Fat Lady Sings (2011), First Impressions (TBR Oct. 2014)
[Read during Bout of Books 10!]